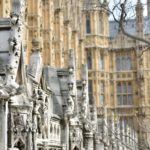 Work on Parliament's new website is progressing and a simple first cut of Member information will be live by March 2017 on their prototype site: beta.parliament.uk.
This very basic information will be tested by external users of the website and the feedback will help move it on to the next phases of the project. Colleagues in Parliament will get a preview of this prototype on 17 February. The new website will be quick and easy to update and it will be more resilient as it will be hosted on cloud infrastructure.
The Digital Service blog shares regular updates and information about this and related work. They are also on Twitter using #ukparlibeta and hold regular show-and-tells which are open to everyone.
To read more, click here.